Remember late last year when we asked y'all what you wanted us to cover in 2021? One of the 21 questions we got was from reader Heidi K., who asked us to break down the recycling process in town. Naturally, I (Editor Brook) jumped at the chance to talk some professional trash, so I spoke with Curbside Management's — a.k.a., Curbie— Nancy Lawson for the scoop.

Like many cities, Asheville focuses on "single-stream" recycling, which allows residents to deposit their recyclable materials into one receptacle without sorting it. There are three major businesses that offer residential and commercial recycling services here in the 828: Curbie, WastePro, and Waste Management. Curbie has a municipal contract with the City of Asheville and handles recycling for Asheville, Biltmore Forest, Fletcher, Weaverville + Woodfin. WastePro and Waste Management handle garbage pickup and recycling for residents of Buncombe County, who opt to pay the bizzes directly for the services. Those that don't elect either of these services must handle trash and recycling on their own.

So, let's go behind-the-scenes at Curbie and break down the process.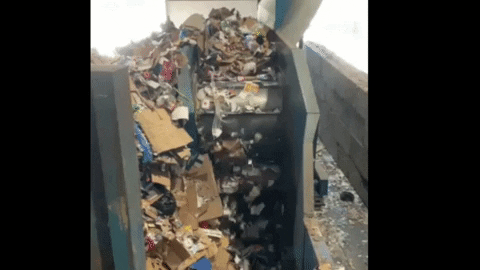 This is how it all begins at Curbie. I Gif by AVLtoday
Curbie is a Materials Recovery Facility (MRF), which means it utilizes both equipment + manual labor to get the job done. First up, trucks dump bags of mixed recyclables onto the warehouse's floor. Then a loader scoops and pushes everything folks put in their recycling bin into a hopper and onto a conveyor belt (of which there are 54 total), where it heads to the pre-sort line.
Curbie's "first line of defense" are the employees who do the initial pre-sort of mixed recyclables the company takes in. I Photo by AVLtoday team
Here, employees hand sort + remove everything that doesn't belong — when I visited, I saw things like cans, boxes, magazines, a suitcase + more. The worst offender? Plastic grocery bags, which aren't recyclable and which can — and do, at least twice a day — damage equipment and shut the plant down.
Share this behind the scenes look at recycling with everyone you know using the buttons below.
Weather
○ 75º | Sunny | 10% chance of rain

Number
○ $50,000. The amount of grant money awarded to Black Mountain College Museum + Arts Center from the National Endowment for the Humanities. The funds will go towards a pilot project that will create online access to the museum's permanent collection. 💰
○ $18 million. The estimated sale price of Pisgah View Ranch in Candler, which will soon become Buncombe County's first state park. Before the 16-acre spot can become an official state park, the state must purchase it and Cooper's proposed 2 year budget must pass in the legislature. 🏞️ (Asheville Citizen-Times)

Community
○ Word on the Street/La Voz de les Jóvenes is looking for BIPOC ages 13-19 who are passionate about arts, community + culture and have interest in its paid after school programming. Applications are open until May 15. 🎙️

Development
○ A single-family subdivision development has been planned for North Louisiana Ave. in West Asheville, across the street from Altamont Mobile Home Park. The project is expected to include 28 modular homes + a small internal road. It's slated to open in early fall. 🏗️ (WLOS)

Ashevillian
○ Chef Ashleigh Shanti is a recipient of South Arts' "In These Mountains" Folk & Traditional Arts Master Artist Fellowship. The org and fellowship highlight artists in a variety of mediums whose works elevate and strengthen community ties. Congrats, Chef. 🏆

Coronavirus
○ Check out the latest COVID-19 stats for NC from the Department of Health and Human Services here. As of Friday afternoon, 17,175 cases and 313 deaths have been reported in Buncombe County. See more Buncombe County-specific info, including waitlist numbers and vaccines distributed, here.
○ COVID-19 vaccination efforts in Buncombe County will soon be consolidated into one site at A-B Tech (340 Victoria Road). Starting May 10, the drive-thru second dose location at Biltmore Church will close. Walk-up shots will also be offered in May. 💉 (Asheville Citizen-Times)
○ On Apr. 21, the Henderson County Board of Commissioners voted unanimously to end the county's mask requirement in county-owned buildings. Officials say COVID-19 metrics have improved, so they feel folks in county buildings can now decide for themselves if they think wearing masks is necessary. (WLOS)

State
○ Lawmakers + advocacy groups are pushing to increase medium wage in NC from $7.25 to $15 per hour. An increase to the medium wage hasn't happened in 12 years. The goal of these advocates is to implement the increase by 2025. 💸 (WLOS)
○ A bill to make Daylight Saving Time permanent has passed in the House of the NC legislature. A similar measure passed unanimously in the House 2 years ago but failed to clear the Senate. Make your voice heard on the issue by writing in to NC State Senators Julie Mayfield + Chuck Edwards. ⏰ (WSOC-TV 9)

Trending
○ Houston, we've got a problem. A chicken wing shortage — resulting from a COVID-19 supply chain issue — has hit the local food + bar scene. As wholesale prices for chicken wings rise, many restaurants may have to go without these delicious bar staples, or mark them up to market price. 🍗 (Asheville Citizen-Times)

Asked
○ To help you get ahead of potential issues, we're asking you to send us all of the homeownership questions + concerns you have. We'll share your questions with the pros at MB HAYNES and report back with their expert tips in an upcoming article. 🏡 Ⓟ

Click the button below for local resources regarding the coronavirus.
#DYK that your photo could be featured in our newsletter? Just use #AVLtoday on social media.
Talk
○ History Café: Julia Wolfe | Mon., Apr. 26 | 10:30-11:45 a.m. | Virtual | $8+ | Kayla Seay discusses the life of Swannanoa Valley native Julia Wolfe. 📜

Learn
○ The Neuroscience of Meditation and Higher States of Consciousness | Mon., Apr. 26 | 4:30-5:30 p.m. | Virtual | Free | Fred Travis discusses the neuroscience of three major forms of meditation. 🧠

Show
○ House of Synth | Mon., Apr. 26 | 6:30-8:30 p.m. | Oklawaha Brewing Company, 147 1st Ave. E., Hendersonville | Free | Synthesizer enthusiasts unite. 🎹

Wellness
○ Yoga under the Full "Pink" Moon | Mon., Apr. 26 | 7:45-8:45 p.m. | Chimney Rock State Park, 431 Main St., Chimney Rock. | $25+ | Bask in lunar + spiritual energy. 🌕'

Cause
○ Blood Drive | Mon., Apr. 26 | 3-8 p.m. | Hillman Beer, 25 Sweeten Creek Rd. | Free, Register | Save a life + grab a brew. 💉

PlanAhead
○ The Magnetic Theatre Presents In The Middle Of Nowhere | Fri., Apr. 30 – Sun., May 16| 6-7:30 p.m. | The Magnetic Theatre | $20+ | Celebrate the reopening of The Magnetic Theatre with a special performance of In The Middle Of Nowhere by local writer Bret Murphy. Ⓟ

Find more of this week's local events in our April PlanAhead.
Disclaimer: It is up to readers' discretion to determine whether they feel comfortable participating in any mentioned events based on COVID-19 protocols and precautions. If you have questions, please contact the event's organizers directly.
Explore 75 acres of breathtaking formal gardens surrounding America's Largest Home ® | Photo provided by ©The Biltmore Company
Brook here, and I'm going to make a bold claim: there may be no better time to visit America's largest private residence than spring, when the grounds + gardens are brimming with bold + brilliant blooms as far as the eye can see. Biltmore's on-site exhibits (more on those later) only add to the thrill of being able to get outdoors, soak up some Vitamin D, and see some fabulous sights while maintaining social distancing protocols.

While there, I also got to learn about the benefits of being an annual passholder, like unlimited daytime visits to Biltmore year-round (and #ProTip: these are currently on sale through April 30). Here's how my visit went, what I learned + how you can #TryThis.

Experience:
Springtime at Biltmore as an annual passholder

What we tried (with pricing):
I arrived at 11:30 a.m. on a picture perfect spring morning (think: sunshine, Cumulus clouds and temps in the high '60s) and made my way to my favorite spots: the Conservatory, gardens, and trails. A major perk of being an annual passholder is that you can access the estate grounds for free all year long. Otherwise, daytime admission starts at $68.
Surround yourself with beauty in the Azalea Garden each spring | Photo provided by ©The Biltmore Company
Biltmore's 6 formal gardens feature hundreds of thousands of flowers — including tulips, azaleas, daffodils, roses + more — and its exquisite Art in Bloom exhibition, which runs through May 27, is a gorgeous way to experience it all. (Another benefit of being an annual passholder? Watching the gardens + blooms change continuously throughout the year.) Ⓟ 
Happy Monday, Asheville. Even though this cat's stank face is all of us right about now, we got this.

🔄 Catch up on any newsletters you may have missed here.

💭 Say Hello: What do you want to know about your city?

✏️️ Want to write an article for us? Find out how here.

👀 Want your business featured in our newsletter? Learn more about advertising opportunities here.

📖 Check out our Editorial Ethics Policy here.
Did a friend forward this to you?
It can be in your inbox tomorrow a.m.
| | | |
| --- | --- | --- |
| @AVLtoday | Follow us. | #AVLtoday |
Let us know if we've missed anything and say

[email protected]
Disclaimer: Content marked with a
Ⓟ
is representative of our advertising partners.
Want to receive AVLtoday once a week instead? Update your preferences here.
Never want to hear from us again? Break our hearts by unsubscribing here.
Copyright © 6AM City, LLC, all rights reserved. Legal.
Greenville, SC 29602