Time to pick up your pens, writers. 🖋 If you're an aspiring or published author, you might already know that November is NaNoWriMo (that's National Novel Writing Month). Over the course of 30 days, writers are challenged to pen 50,000 words – that's about the length of a short novel. If you meet the goal, you "win," which means you have the beginnings of the next Great American Novel + bragging rights forever.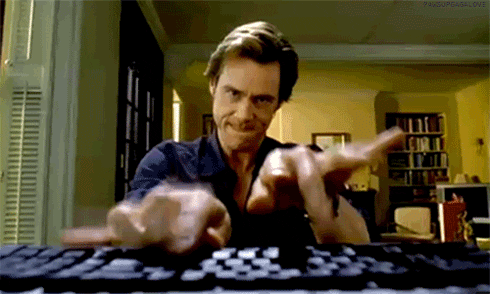 And to help you turn your first draft into a masterpiece, UNC Asheville's Great Smokies Writing Program is offering a variety of Spring 2021 virtual courses on writing — and registration is open now. Topics include poetry workshops, flash fiction, prose + more.

Looking for more NaNoWriMo inspo? Check out our roundup of WNC authors writing about the area, which includes local luminaries like Thomas Wolfe, the Fitzgeralds, and Wilma Dykeman, plus contemporary writers like Sarah Addison Allen, Tamiko Ambrose Murray + David Joy.

And, here are a few more events to help you get into the creative spirit –

• Book Discussion: Just Mercy | Nov. 7 | 6-7:30 p.m. | Virtual, register here | Free | Sylva's City Lights bookstore hosts NYT bestselling author Bryan Stevenson, whose 2015 memoir examines the impact of racial inequality on our legal justice system.
• NC Writers' Network Online Conference | Nov. 10-14 | Virtual | $275+ | The group's first-ever online conference offers virtual opps for networking and five days of panel discussions, workshops, readings, happy hours + more.
• Virtual Come Write In for NaNoWrimo | Nov. 13 | 4-5 p.m. | Virtual, register here. | Free | Write along with Buncombe County Public Library librarians who are also penning novels of their own. Some prompts will be provided, but it's mostly a virtual space to work, share + commiserate with others.

If NaNoWriMo is your gateway into even more writing, click the button below to check out more helpful organizations + programs.
Share these resources + inspo with your likeminded literary pals below.
Weather
○ 70º | Partly cloudy | 10% chance of rain

Civic
○ There will be a virtual public meeting discussing bicycle + pedestrian safety, transit, + connectivity between downtown and Biltmore Village on Thurs., Nov. 12 at 5:30 p.m. The meeting will focus on Biltmore Avenue + the McDowell Street corridor. 🚴

Community
○ The Appalachian Sustainable Agriculture Project's Farms Feeding Families program has kept many WNC farmers up + running during the pandemic. The program pays farmers for the food they grow + gives the food to those in need. This enables farmers to gather sales from losses they've seen with restaurant shutdowns + more. 🚜 (Asheville Citizen-Times)

Number
○ 893,300. The number of NC voters who cast their ballots on election day. This represents a little over 16% of the total number of votes cast in the state for the general election so far. This is the smallest number of voters to cast ballots on Election Day in the state's history, a number impacted by the greater number of early voting + mail-in absentee ballots. 🗳️ (Carolina Public Press)

Cause
○ In honor of Veteran's Day, which takes place Nov. 11, Asheville Buncombe Community Christian Ministry (ABCCM) will hold its first annual Honor A Veteran virtual event. Supporters can make a donation or purchase a care package ranging from $20 to $500, which will go to help veterans acquire things like job training. Donations also allow folks to place the name, bio, + photo of a veteran on ABCCM's virtual Veteran Honor Wall, a permanent online display. Wanna support the cause? Donate here. 📦

Outdoors
○ One of the most challenging kayak races in the world, the Green River Narrows Race, will take place this Sat., Nov. 7 in Saluda. The 25th annual iteration looks a bit different this year, as no spectators are allowed due to COVID-19 — but you'll be able to livestream the event. Even cooler? Five dollars from every livestream purchase will go to nonprofits American Whitewater + Green Riverkeeper. 🚣 (Asheville Citizen-Times)

Coronavirus
○ Check out the latest COVID-19 stats for NC from the Department of Health and Human Services here. As of Thursday afternoon, 4,443 cases and 109 deaths have been reported in Buncombe County.
○ On Weds., Nov. 4, the North Carolina Department of Health and Human Services (NCDHHS) reported 2,425 new COVID-19 cases and 50 COVID-19-related deaths. This marks a significant increase in metrics that indicate the state's coronavirus trends are going in the wrong direction. (WSOC)

Asked
○ We've had a number of readers write in + ask which area eateries have heaters to keep them warm while they dine outside in increasingly cool temperatures. So we're turning it over to y'all: Have you eaten out recently at a place with a heat lamp? Or are you an owner or employee of a place that has heating secured for outdoor diners? If so, please do us a solid and let us know here.

Finance
○ Joi is the first bot that allows Network Marketers (think: Young Living, Mary Kay, Nu Skin, etc.) to sell products directly on Facebook – creating a solution for ~6 million direct sales consultants who run into payment processing issues during product sales. An equity crowdfunding campaign is now live that allows anyone to become a Joi shareholder. Learn more about investing. Ⓟ

DealOfTheDay
○ Don't let the big box stores win on Black Friday. Our email on Nov. 27 is going to be all about local deals and we're offering the first one to you right now. Submit your deal and take $175 off using code NOV27DEAL. Offer ends Sun., Nov. 15.

Click the button below for local resources regarding the coronavirus.
It's the season to be thoughtful + generous, and in this spirit, Chestnut School for Herbal Medicine has shared word that the Black Woman Agricultural Freedom Fund — an organization dedicated to helping Black folks obtain food justice + food security — is holding an online auction from Nov. 4-18.

Makers, artists, writers + more — including Chestnut School, which has donated one enrollment to their online Herbal Immersion program — are donating items for the auction, which will raise money to purchase Black-owned agricultural land + equipment in efforts to facilitate + protect the future of Black food sovereignty. While this issue is always important, organizers note it's especially important amidst a worldwide pandemic where global food shortages are anticipated. Wanna donate or support the cause? Do so here.
#DYK that your photo could be featured in our newsletter? Just use #AVLtoday on social media.
Learn
○ What the 2020 Election Results Could Mean | Fri., Nov. 6 | 11:30 a.m.-1:15 p.m. | Virtual | Free, register here | Make sense of the election results with a live online discussion featuring WNC political specialists. ⚖️

Show
○ Dr. Bacon | Fri., Nov. 6 | 6:45 p.m. | Salvage Station, 468 Riverside Drive, Asheville | $20 | Jam out to a lively blend of Appalachian funk + rock. 🎶
○ JJ Grey & Mofro Drive In Concert | Fri., Nov. 6 | 7 p.m. | Le Parc, 337 Glen Cannon Dr., Pisgah Forest | $120+ | Settle in for a mix of blues, country + soul. 🚗

Event
○ 80s vs 90s Silent Disco | Fri., Nov. 6 | 8 p.m. | Rabbit Rabbit, 75 Coxe Ave. | $6 | Come dance the night away with Molly Parti + DJ OSO. Tickets sold per table; wireless headphones provided. 💃

Drink
○ Cold Mountain Release Weekend | Fri.-Sun., Nov. 6-8 | 12-10 p.m. | Highland Brewing Company, 12 Old Charlotte Hwy. | $10+ | Celebrate the locally + nationally loved Cold Mountain brew. 🍺

Saturday
○ A Historic North Fork Valley Tour of the Asheville Watershed | Sat., Nov. 7 | 9 a.m.-2:30 p.m. | Swannanoa Valley Museum + History Center, 223 West State St., Black Mountain | $200 | A historic driving tour + exploration of the Burnett Reservoir + once-thriving North Fork Valley. 🧠
○ Black Humanity Matters: Closing the Opportunity Gap, Part II | Sat., Nov. 7 | 10 a.m.-12 p.m. | Virtual | Free | UNC Asheville Associate Professor of Africana Studies + Education Tiece Ruffin leads a virtual community gathering exploring best practices + solutions supporting positive academic outcomes for Black youth. 🎓
○ Spiritual Fusions Psychic & Holistic "Pop-Up" Expo | Sat., Nov. 7 – Sun., Nov. 8 | 10 a.m.-6 p.m. | WNC Agricultural Center – Boone Building | Daily admission is $9 ($3 off coupon here) | The spiritual community gathers for a weekend of healing therapists, intuitive consultants, aura photography, health professionals, psychics, an array of crystals, jewelry, gifts and more. Ⓟ

Sunday
○ Fresh Egg Pasta 101 | Sun., Nov. 8 | 12-1:30 p.m. | Virtual | $30 | Learn the basics of making fresh egg pasta + form shapes like farfalle + garganelli with this hands-on virtual class. 🍝
○ Family Outdoor Movie: Toy Story | Sun., Nov. 8 | 5 p.m. | Rabbit Rabbit, 75 Coxe Ave. | $5 | To infinity + beyond. Grab your kiddos + head over to watch Woody, Buzz + the gang take down Emperor Zurg. 🎥
○ Chilltonic | Sun., Nov. 8 | 7 p.m. | The Grey Eagle, 185 Clingman Ave. | $10 | This patio show showcases soulful melodies + refreshing rhythms with a blend of progressive sounds + nostalgia. 🎤
○ Sunday Supper Series | Sun., Nov. 8 | 6-10 p.m. | Avenue M, 791 Merrimon Ave. | $85 | Avenue M's third guest chef event in their Sunday Supper Series features guest chef and five-time James Beard finalist John Fleer of Rhubarb. 🥘

Find more of this week's local events in our November PlanAhead.
Disclaimer: It is up to readers' discretion to determine whether they feel comfortable participating in any mentioned events based on COVID-19 protocols and precautions. If you have questions, please contact the event's organizers directly.
Campbell University School of Medicine says it's more important now than ever to keep up with your health | Photo provided
DYK doctor's office visits are down ~60%? But now is *not* the time to let your health wait.

Maintaining a healthy lifestyle is critical now more than ever:
• Stay safely physically active (think: walking or biking).
• Boost your immune system with a healthy diet (fresh vegetables + fruits over sugar and fast food).
• See your primary care physician regularly (try telehealth) to keep prescriptions/vaccinations current, control ongoing health conditions, and report new symptoms. Ⓟ
Congrats to Allison D., the winner of our Election Day "I Voted" contest. Here's to everyone who made their voice heard this election season. You're all winners in our eyes. 👏

🔄 Catch up on any newsletters you may have missed here.

💭 Say Hello: What do you want to know about your city?

✏️️ Want to write an article for us? Find out how here.

👀 Want your business featured in our newsletter? Learn more about advertising opportunities here.

📖 Check out our Editorial Ethics Policy here.
Did a friend forward this to you?
It can be in your inbox tomorrow a.m.
| | | |
| --- | --- | --- |
| @AVLtoday | Follow us. | #AVLtoday |
Let us know if we've missed anything and say

[email protected]
Disclaimer: Content marked with a
Ⓟ
is representative of our advertising partners.
Want to receive AVLtoday once a week instead? Update your preferences here.
Never want to hear from us again? Break our hearts by unsubscribing here.
Copyright © 6AM City, LLC, all rights reserved. Legal.
Greenville, SC 29602