Remember late last year when we asked y'all what you wanted us to cover in 2021? One of the 21 questions we got was from reader Heidi K., who asked us to break down the recycling process in town. Naturally, I (Editor Brook) jumped at the chance to talk some professional trash, so I spoke with Curbside Management's — a.k.a., Curbie— Nancy Lawson for the scoop. 
Like many cities, Asheville focuses on "single-stream" recycling, which allows residents to deposit their recyclable materials into one receptacle without sorting it. There are three major businesses that offer residential and commercial recycling services here in the 828: Curbie, WastePro, and Waste Management. Curbie has a municipal contract with the City of Asheville and handles recycling for Asheville, Biltmore Forest, Fletcher, Weaverville + Woodfin. WastePro and Waste Management handle garbage pickup and recycling for residents of Buncombe County, who opt to pay the bizzes directly for the services. Those that don't elect either of these services must handle trash and recycling on their own. 
So, let's go behind-the-scenes at Curbie and break down the process.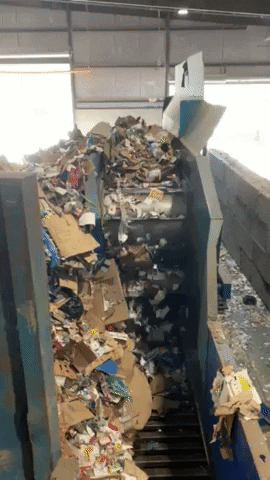 Curbie is a Materials Recovery Facility (MRF), which means it utilizes both equipment + manual labor to get the job done. First up, trucks dump bags of mixed recyclables onto the warehouse's floor. Then a loader scoops and pushes everything folks put in their recycling bin into a hopper and onto a conveyor belt (of which there are 54 total), where it heads to the pre-sort line. 
Here, employees hand sort + remove everything that doesn't belong — when I visited, I saw things like cans, boxes, magazines, a suitcase + more. The worst offender? Plastic grocery bags, which aren't recyclable and which can — and do, at least twice a day — damage equipment and shut the plant down. DYK you can bring your plastic bags to places like Wal-Mart, Ingles, and Publix for recycling?
Inside the warehouse, people and machines work together to sort materials. On one belt, glass items cascade onto iron discs which grind everything up. The shards fall below into a separate bin and look almost like sleet coming down. Another machine uses an air jet to blow small objects that have fallen through the discs onto its appropriate belt, and another utilizes industrial magnets to collect and separate metals. Everything happens quickly, and the machines are loud.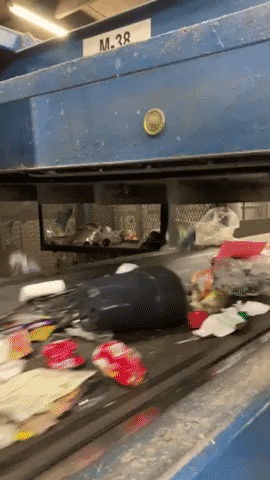 All sorted items are eventually baled (there are 3 balers total) and set aside to go onto a truck where they're taken to a vendor or factory to be transformed into something new. 
So what do vendors do with the materials once they receive them? It depends on the material, but glass often becomes fiberglass, paper becomes paper or tissue, and plastic can be transformed into carpet.
The biggest tip Nancy has for folks who want to be better, more efficient recyclers? Know your area and what can + can't be accepted. Curbie (and other facilities) can only recycle things on their list of approved items. See what Curbie can recycle here, or peep the City's helpful Waste Wizard tool to check.
Other important things to keep in mind:
When it comes to plastics, Nancy says, "Containers, containers, containers." Curbie can only take containers purchased from a retail store.

Think: milk + water

jugs

,

cream cheese and butter

tubs

,

bottles

(sauces, dressings, cleaner)

For bottles with lids, screw the lids on. If not secured they can slip into all sorts of places along the belts, making them contaminants that can require extra sorting and may result in the rejection of an entire load of recyclables.

Remember:

no grocery bags

. 

No styrofoam.
No wood.
No clothing.
For metals, cans (e.g., soda, dog food, vegetables, tuna) are accepted.
Glass bottles and jars (e.g., beer, sauce, wine, condiments) are accepted.
Accepted paper products include (shopping bags, cereal boxes, milk containers, and cardboard).
Remove the grease-soaked portion of your pizza boxes and put it in the trash.